Echo Bay in the Broughton Archipelago
Between north Vancouver Island and the British Columbia mainland, Echo Bay is at a location approximately 48 km (30 mi) northeast of Port McNeil
Located on the north side of Gilford Island, at the east end of Cramer Passage in the Broughton Archipelago, Echo Bay is a well known destination for yachters, sport fishers, and kayakers due to it's sheltered and scenic locale.
On the west shores of Echo Bay is Pierres's marina and lodge and on the east side of the bay is the location of a group of floating homes called the Cliffside Community which houses summer cottages as well as full time residents.
Echo Bay is an unincorporated coastal community that currently boasts a population of approximately 10 full time residents.
After 46 years, the local school at Echo Bay closed in 2008, marking an end to a once bustling and thriving community of Broughton residents who worked primarily in the forestry and fishing industries and lived either in forestry camps or on the water in float homes. The school building was torn down in 2014.
Near the school location at the end of the bay, is a Provincial Marine Park. The park is popular with kayakers and there is a trail from Pierre's that makes for a nice short afternoon hike. There is also a trail that leads to Billy Proctor's Museum, a short hike from Pierre's at Echo Bay.
Trivia: Echo Bay got it's name from the way sound bounced back from the large cliff on the east side of the bay.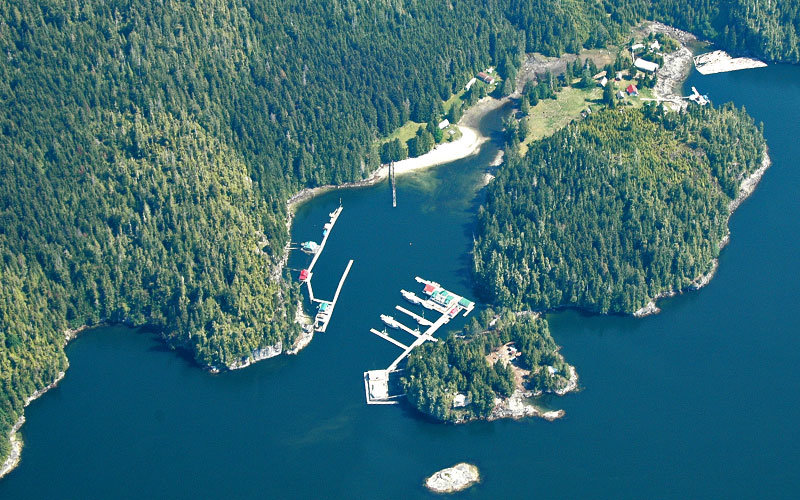 Where we are located geographically
Latitude:
50°45'04.7″N
Longitude:
126°29'49.2″W
Use Canadian Hydrographic Chart:
3515 – Knight Inlet